Sikh Missionary Society: Articles: Sikh Martyrs: Shaheed Bhai Taru Singh

Shaheed Bhai Taru Singh
Khalsa love and respect their hair.
They may be murdered, they do not care.

Sikhs had to leave their homes in the 18th century because of the constant attacks on them by the state police. Some Sikhs, however, remained in villages with the support of local Muslims. Bhai Taru Singh of Amritsar was one such Sikh. He was a farmer who used to help every needy person whether a Muslim, a Hindu or a Sikh. Poor people could depend upon him for support. He sent food and other necessities to the Khalsa living in the nearby forests.

Harbhagat Niranjania, filled with enmity for Sikhs and feeling jealous of Bhai Taru Singh made many false complaints to the government at Lahore. He hoped to get awards from the government for being their loyal informant. Finally, he succeeded in his evil mission. He brought police with him and had Bhai Taru Singh arrested and taken to Lahore in 1745. Zakaria Khan, the governor of Lahore, ordered the torture of Bhai Taru Singh. He remained calm and suffered all pain without changing his mind. After some time, when produced before Khan, Bhai Sahib asked the reasons for torturing him, particularly when he had committed no crime and was liked by all the people of his village.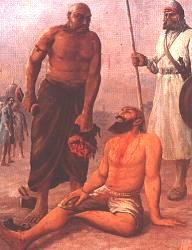 Zakaria Khan told Bhai Taru Singh that a popular person like him should be a Muslim. Therefore, if he wanted to be free, he would have to adopt Islam. Further, Zakaria assured him that a good person like him would be very much honored by the government if he became a Muslim. However, Bhai Sahib stuck to his faith and refused to give it up at any cost. When the governor repeated his proposal with a firm order that Bhai Taru Singh had to choose either death or Islam, Bhai Sahib asked him, "You are assuring me you will spare my life if I become a Muslim but can you assure me that having become a Muslim I will live forever? Are you sure, being a Muslim you will never face death? If one has to die, sooner or later, then I would love to stick to my faith whatever you may like to do to me."
The Governor was angered at this reply of Bhai Taru Singh and therefore ordered the removal of his scalp. A barber was called for this purpose. The dreadful scene frightened everyone there including Zakaria Khan himself. The watching of the horrible act of separating the scalp of a living man left a very terrifying picture in the mind of Zakaria Khan. He became sick and died soon after. Even many Muslims cursed him for his terrorism particularly against innocent people.
We must live and die as Sikhs as nothing is better than that. Tyrants who commit violence on innocent people to satisfy their evil mind, get themselves punished by their evil thoughts.