In January 2002 the Shiromani Gurdwara Parbandak Committee, Amritsar, Punjab decided the issue over the Sikh calendar and has adopted the new Nanakshahi calendar based on solar (fixed) rather than lunar dates. The new calendar came into force from 14 April 2003 and you may pick up a free Calendar by visiting the Sikh Missionary Society.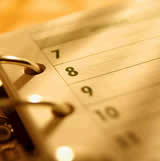 January
5 Birth Guru Gobind Singh Ji
31 Birth Guru Har Rai Ji
March
14 Gur Gadi Guru Har Rai Ji
19 Joti Jot Guru Hargobind Ji
April
14 Vaisakhi
16 Joti Jot Guru Angad Dev Ji
16 Gur Gadi Guru Amar Das Ji
16 Joti Jot Guru Har Krishen Ji
16 Gur Gadi Guru Tegh Bahadur Ji
18 Birth Guru Angad Dev Ji
18 Birth Guru Tegh Bahadur Ji
May
2 Birth Guru Arjan Dev Ji
23 Birth Guru Amar Das Ji
June
11 Gur Gadi Guru Hargobind Ji
16 Shaheedi Guru Arjan Dev Ji
July
5 Birth Guru Hargobind Ji
23 Birth Guru Har Krishen Ji
September
1 1st Parkash Guru Granth Sahib Ji
16 Joti Jot Guru Amar Das Ji
16 Gur Gadi Guru Ram Das Ji
16 Joti Jot Guru Ram Das Ji
16 Gur Gadi Guru Arjan Dev Ji
18 Gur Gadi Guru Angad Dev Ji
22 Joti Jot Guru Nanak Dev Ji
October
9 Birth Guru Ram Das Ji
20 Joti Jot Guru Har Rai Ji
20 Gur Gadi Guru Granth Sahib Ji
20 Gur Gadi Guru Har Krishen Ji
21 Joti Jot Guru Gobind Singh Ji
November
8 Birth Guru Nanak Dev Ji
24 Shaheedi Guru Tegh Bahadur Ji
24 Gur Gadi Guru Gobind Singh Ji
notes:
GurGaddi means the date the Guruship was bestowed
Joti Jot (literally - light merging with light) refers to the date of passing
Shaheedi means Martyrdom
Dates in bold are generally more widely observed.