Guru Arjan Dev
Embodiment of Supreme Sacrifice and Peace.
Guru Arjan Dev Ji is the fifth Guru of the Sikhs. He was born on April 15, 1563 at Goindwal Sahib. He was the youngest son of Guru Ram Das Ji. He assumed Gurgaddi on August 31, 1581. He was first Guru to have been born a son of Guru.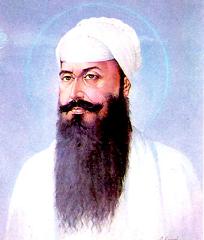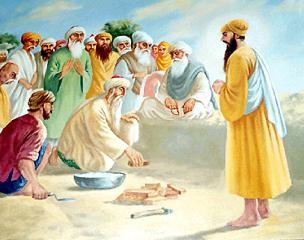 He completed the Sarovar of Nectar at Amritsar and built Sri Harmandar Sahib, the centre of worship and religious assembly. He compiled Sri Adi Granth, later called Sri Guru Granth Sahib and installed it at Sri Harmandar Sahib on August 16, 1604. Nothing else but Shabad Kirtan is recited in the sanctum sanctorum of Sri Harmandar Sahib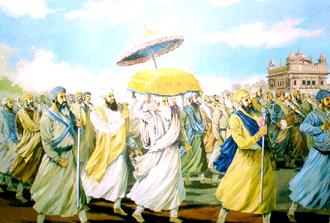 Guru Arjan Dev Ji constructed the holy (Sarovar) tank at Tarn Taran and founded the city of Kartarpur near Jalandhar. The city of Sri Hargobindpur on the banks of river Beas was founded by him to celebrate the birth of his son Hargobind Sahib.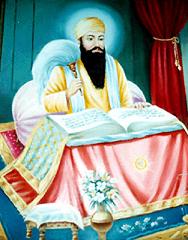 Guru Arjan Dev enjoined the Sikhs to contribute Daswandh (one tenth of the earnings) for community purposes.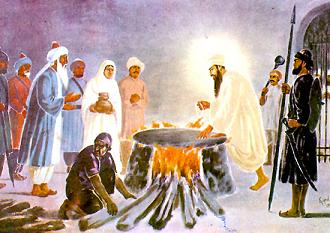 Guru Arjan Dev was arrested, tortured and made to sit on hot iron plates at Lahore when he refused to embrace Islam. He was martyred on May 30, 1606 at Lahore by Emperor Jahangir.
Guru Arjan Dev is a great thinker, illustrious poet, a practical philosopher and a celebrated saint. He is the first martyr in the Sikh history. He practiced humility and forgiveness. He preached truth, contentment and contemplation. He organized the Sikhs into a community.
After brutal martyrdom of Guru Arjan Dev Ji, his son Hargobind Sahib was anointed the Sixth Guru of the Sikhs in line.
Bani Compositions
Guru Arjan Dev Ji composed 2218 Shabads in 29 Ragas including Gauri Sukhmani Sahib, Bara Mah and Bawan Akhri.
Construction Work
Completion of Santokhsar Sarovar at Amritsar
Construction of Sri Harmandar Sahib
Excavation of Tarn Taran Sarovar and establishment of asylum for lepers
Foundation of Kartarpur (Near Jalandhar)
Foundation of Sri Hargobindpur
Contemporary Rulers of India
Emperor Akbar from 1556 to 1605 A.D.
Emperor Jahangir from 1605 to 1626 A.D.
For more reading,