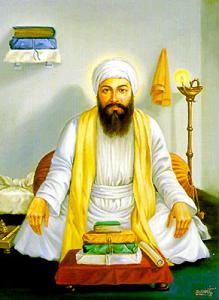 Guru Angad Dev
Obedience through submission before the Will of God.
Guru Angad Dev Ji is the second Guru of the Sikhs. He was born at Mate Di Sarai in Punjab on March 31, 1504. His father Pheru Mal was a trader. His original name was Lehna. He was married to Mata Khivi. He had two sons, Datu and Dasu. Bibi Amro was his daughter.
Bhai Lehna heard the hymns of Asa Di Var and was fascinated to the teachings of Guru Nanak Dev Ji. He met Guru Nanak Dev at Kartarpur and thereafter remained in Guru's service for about thirteen years. Upon meeting Guru Nanak Dev, he realized that idols held no meaning in life. His love of the Guru inspired him to become a perfect disciple of the Guru.
Guru Nanak Dev selected Bhai Lehna for Guruship due to his devotion and obedience on September 7, 1539 and was named Guru Angad.
Contribution and Message
Guru Angad Dev made extensive efforts to spread teachings of Guru Nanak Dev far and wide. He introduced the teaching of Punjabi in Gurmukhi script by modifying the existing alphabet. He improved literacy among the Sikhs and started school at Khadur Sahib to teach Gurmukhi to the children. He encouraged physical health building through sports and wrestling as well mental health through discipline and truthful living.
He consolidated the institution of Langar started by Guru Nanak Dev Ji. He enjoined the Sikhs to do selfless service to the human race and surrender to the Will of God.
Guru Angad Dev was a man of humility, wisdom and generosity. His wife Mata Khivi Ji is known person to serve the Sangat in Langar.
Succession to Gurgaddi (Coronation)
Guru Angad Dev excluded his sons and bestowed Guruship on Amar Das Ji. He left for heavenly abode at Khadur Sahib on March 29, 1552.
Compositions
Guru Angad Dev Ji composed 62 hymns in 10 Ragas.
Contemporary Rulers of India
| | |
| --- | --- |
| Hamayun | 1530 to 1540 A.D. |
| Sher Shah Suri | 1542 to 1545 |
| Islam Shah Suri | 1545 to 1553 |