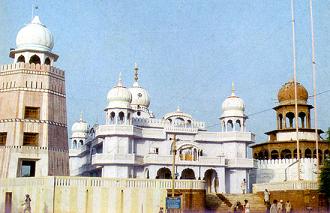 Literally, Damdama means the breathing or resting place. Dam Dama Sahib is one of the Five Takhts of the Sikhs. It is located at village Talwandi Sabo, 28 km southeast of Bathinda. Guru Gobind Singh stayed here after fighting battles against Mughal atrocities. Before his arrival at Talwandi, two of the Guru's sons were bricked alive at Sarhind and two laid down their lives at Chamkaur Sahib. After writing Zafarnama, Guru Gobind Singh fought a successful battle at Muktsar and then moved towards Talwandi Sabo Ki.
While at Talwandi, Sikhs started coming to the Guru from all over Punjab and other places. Here a Gurdwara was erected in Guru's memory. This place is also known as Guru -Ki -Kanshi as it was made a center of the Sikh learning.
Damdame Wali Bir of Sri Guru Granth Sahib was prepared here by Guru Gobind Singh. It was transcribed by Bhai Mani Singh. The hymns of Guru Tegh Bahadur Sahib were added into the Bir.
It was at Dam Dama Sahib that Bhai Dalla was tested for his bravery by Guru Gobind Singh and brought into the order of Khalsa. It was from Damdama Sahib that the Guru moved towards south. In the meantime, Aurangzeb died and the Guru helped Bahadur Shah, Aurangzeb's eldest son to sit on the throne.
The Guru was honored by Bahadur Shah at Agra. The new Emperor also left for south but parted from the Guru at Nanded. It is said that Bahadur Shah did not fulfill his promise to punish the officials who had committed atrocities upon the Sikhs and killed Guru's young children. The Guru commissioned Banda Bahadur to Go to Punjab and punish the guilty and bring peace to the state.
This Takht was officially recognized as the fifth Takht on Novemver 18, 1966. On demand from the Sikhs, a sub-committee was appointed by the Shiromani Gurdwara Parbandhak Committee Amritsar vide General Meeting Resolution No: 789 on July 30, 1960. A report of the sub-committee containing 183 pages was received to declare Damdama Sahib, Guru Ki Kashi as the fifth Takht of the Sikhs. A general body meeting of the Shiromani Gurdwara Parbandhak Committee Amritsar approved the recommendations through resolution number 32 on November 18, 1966.
It has been declared as fifth Takht by the government of India in April 1999 during tercentennial celebrations of the advent of Khalsa.
Other Gurdwaras at Takht Sri Damdama Sahib
Gurdwara Manji Sahib Sri Guru Tegh Bahadur
Gurdwara Manji Sahib Padshahi Nauvin and Dasvin
Gurdwara Likhansar Sahib
Gurdwara Jandsar Sahib
Gurdwara Tibbi Sahib
Gurdwara Sri Nanaksar
Gurdwara Niwas Asthan Padshahi Dasvin
Gurdwara Mata Sundari and Sahib Devan