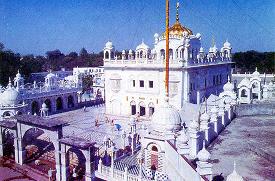 In South central India at Nanded, on the banks of river Godawari, is a Gurdwara named Sachkhand Sri Hazur Sahib Abchal Nagar Sahib. This Gurdwara is located at the place where Guru Gobind Singh ended his sojourn on October 7, 1708. It was here that Banda Singh Bahadur was initiated with Khande Di Pahul by Guru Gobind Singh and detailed to establish peace in Punjab and protect righteousness. Bhai Daya Singh and Bhai Dharam Singh are said have left for heavenly abode from this place.
The inside central room is called Angitha Sahib where Guru Gobind Singh was cremated. This Gurdwara is one of the five Takhts (Seats of Authority) of the Sikh faith. Guru Gobind Singh ended the physical Guruship before his departure from this world and passed on the permanent Guruship to Sri Guru Granth Sahib on October 6 , 1708. He declared that the temporal functions of the Guru will be performed by the Five Beloveds. The spiritual guidance will be given by Sri Guru Granth Sahib.
"Whosoever wishes to find (Behold) God, let him search Him in Sri Guru Granth Sahib....Where ever five Sikhs are assembled together, there will I be present."
"Agya Bhaiee Akal Ki", the Last sermon of Guru Gobind Singh
Guru Gobind Singh did not appoint any human successor in line of human Guruship as per tradition. The Guru declared Granth Sahib to be the ultimate preceptor and the Guru-Eternal for the Sikhs. He conferred Guruship on Granth Sahib at Abchal Nagar Nanded by circumambulating five times and bowing his head before it. He declared that after him, the living Guru would be embodied in the Sabad (Word) as contained in Sri Guru Granth Sahib by uttering the sermon:
Agya Bhai Akal ki tabhi chalayo Panth,
Sab Sikhan ko hukam hai Guru manyo Granth.
Guru Granth ko Manyo pargat Guran ki deh
Jo Prabhu ko milna chahe khoj sabad men leh
ਆਗਿਆ ਭਈ ਅਕਾਲ ਕੀ ਤਬੀ ਚਲਾਇa ਪੰਥ ॥
ਸਭ ਸਿਖਨ ਕੋ ਹੁਕਮ ਹੈ ਗੁਰੂ ਮਾਨਿa ਗ੍ਰੰਥ ॥
ਗੁਰੂ ਗ੍ਰੰਥ ਜੀ ਮਾਨਿa ਪ੍ਰਗਟ ਗੁਰਾਂ ਕੀ ਦੇਹ ॥
ਜਾਕਾ ਹਿਰਦਾ ਸੁਧ ਹੈ ਖੋਜ ਸ਼ਬਦ ਮੈਂ ਲੇਹ ॥
(Tawarikh Guru Khalsa by Giani Gian Singh Part-1, p-1142)
(See Rehat Nama Bhai Prahlad Singh, Guru's contemporary)
(ਗ. ਗਿਆਨ ਸਿੰਘ, ਤਵਾਰੀਖ ਗੁਰੂ ਖਾਲਸਾ, pM-355-56)
Raj karega Khalsa aaki rahe na koe,
Khawar hoe sabh milainge bacheh sharan jo hoe.
ਰਾਜ ਕਰੇਗਾ ਖਾਲਸਾ ਆਕੀ ਰਹਿਹ ਨ ਕੋਇ ॥
ਖਾਰ ਹੋਇ ਸਭ ਮਿਲੈਂਗੇ ਬਚਹਿ ਸ਼ਰਨ ਜੋ ਹੋਇ ॥
(Tankhah Nama Bhai Nand Lal, Court Poet)
ਤਨਖਾਹਨਾਮਾ ਭਾਈ ਨੰਦ ਲਾਲ)
Hukam (Divine order by random reading) from Sri Guru Granth Sahib was taken at that time which reads, "Abchal Nagar Gobind Guru ka , nam japat sukh paiya Ram" (783). So this place was named Abchal Nagar (Unshakable place) at that time. Maharaja Ranjit Singh decorated the Gurdwara with marble and gold plating during his regime.
It was from here that Banda Bahadur was sent to Punjab to fight for righteous cause. It is a repository of Weapons of Guru Gobind Singh which are exhibited for Darshan of the visitors.
Following are the other Gurdwaras which are around Sri Hazur Sahib.
Gurdwara Sangat Sahib
Gurdwara Mal Tekri Sahib
Gurdwara Shikar Ghat
Gurdwara Hira Ghat
Gurdwara Nagina Ghat
Gurdwara Mata Sahib Devan
Gurdwara Baba Banda Bahadur Ghat
Gurdwara Ratangarhi Sahib
Gurdwara Mai Bhago
Gurdwara Langar Sahib, Nanak Sar and Ratangarh Sahib established by Baba Nidhan Singh.